Discover Your IRON Clad Retirement!
Build REAL wealth step-by-step with Effective Retirement Planning
Correct inefficient decisions with your retirement
WHAT EFFECTIVE RETIREMENT PLANNING ONLINE COURSE GETS YOU:
Over 90 minutes of  lessons showing you step-by-step how to effectively plan retirement.
20 lessons right away!
$300,000 plus value in strategies, tools, knowledge, tips and resources (this is a hands-on and results oriented course).  
Coaching sessions at your own pace, anywhere! 
Quiz and Final Assessment is included. 

BONUS: Get FREE access to "Ensuring your Success" module and potentially add over $400 per month in your pocket immediately!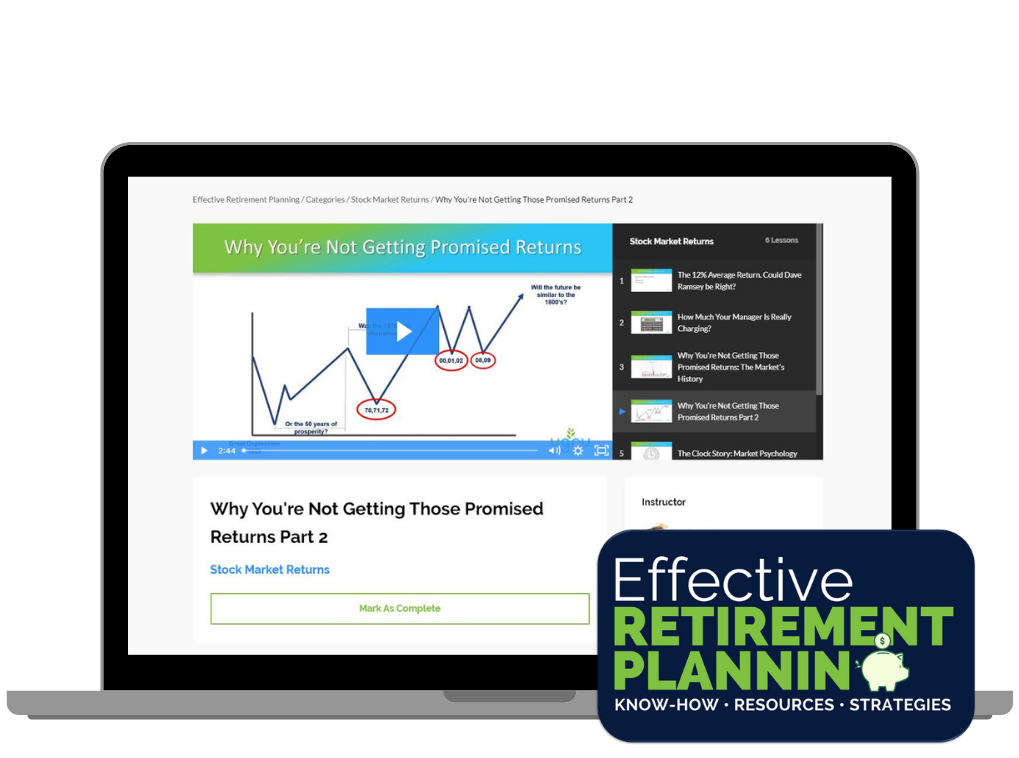 Maplewood Financial in partnership with UGRU Coaching brings you Effective Retirement Planning Planning Personal Finance Course
What we cover in this Course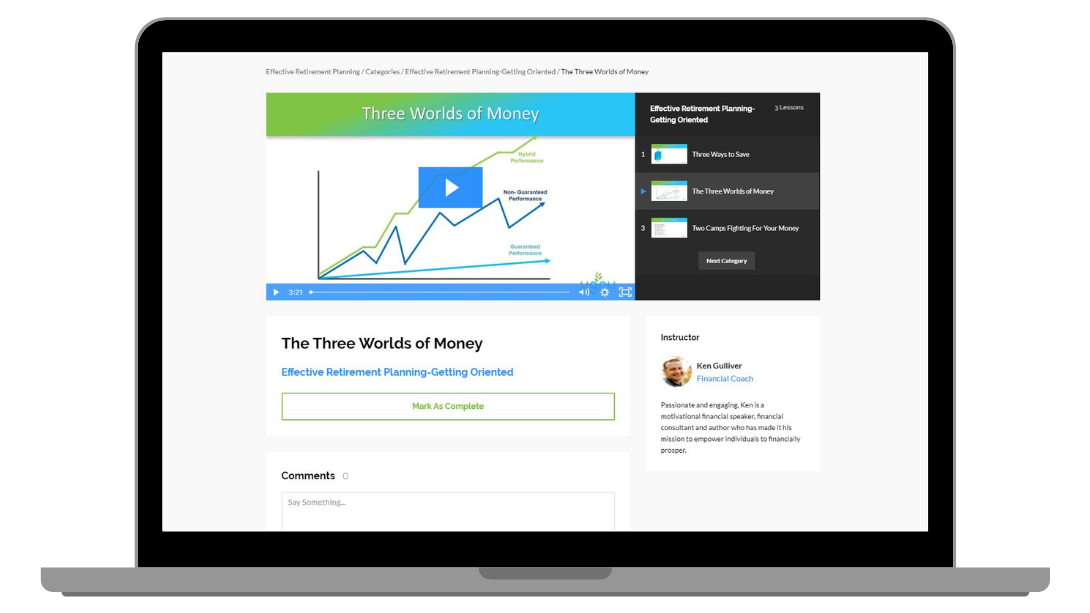 Module 1: "Effective Retirement-Getting Oriented"
You will discover:
The power of a penny
Three ways to compound your money.
The three ways to save
The three worlds of savings and investments.
The mechanics of guaranteed, non-guaranteed and hybrid investments.
The pros and cons of using equities vs insurance products to fund retirement.
Module 2: "Understanding Variable Annuities"
You will discover:
Why you likely own the wrong Variable annuity.
The mounting fees in variable annuities explained simply.
How to cut your variable annuity expenses by more than 2/3rd's (this could easily save you over $167,000!).
How to get out of your expensive variable annuity without paying taxes.
How to side step the middle man and save big on commissions and fees.
Where to go to purchase direct.
A strategy that can put money in your pocket immediately, significantly reduce market downturns, historically has outperformed the S&P 500 under most market conditions with significant savings in fees.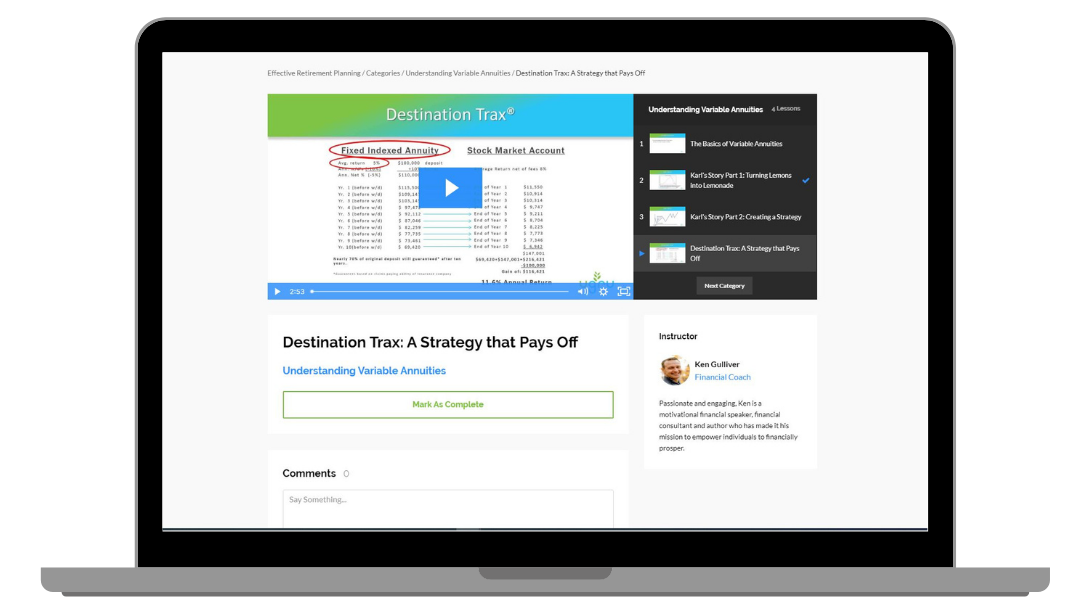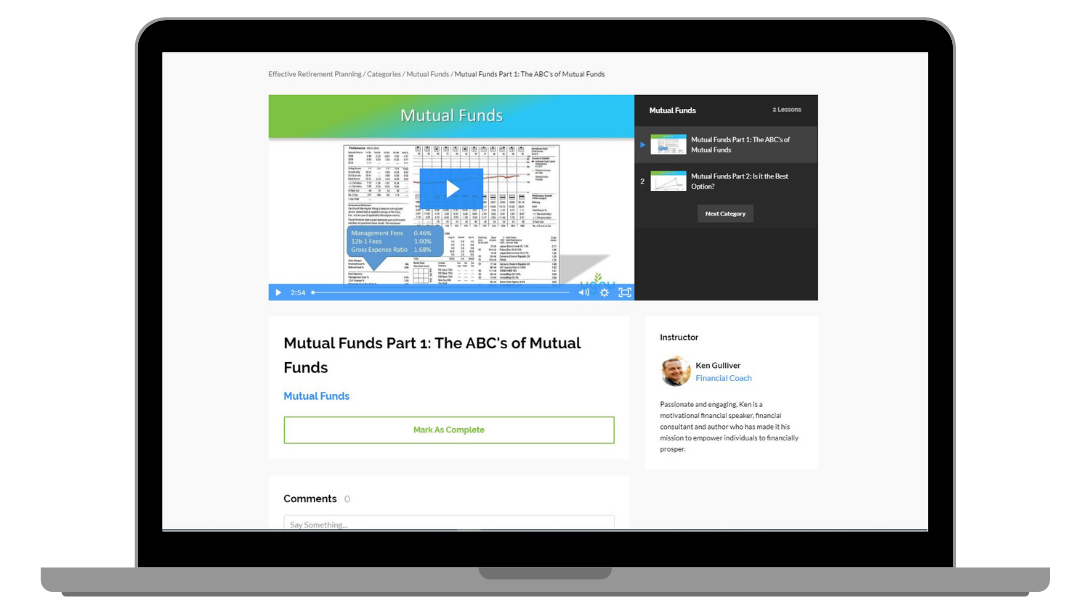 You will discover:
The different fund classes.
What fees mutual funds legally don't have to disclose that your advisor doesn't tell you about.
How to easily figure the REAL cost your mutual funds are charging you.
How you might be paying taxes on your mutual funds even if you experienced a loss for the year.
Module 4: "Stock Market Returns"
You will discover:
The difference between active and passive investing.
Where to go for reduced fee investing.
How focusing too much on your investments is harming your ability to build wealth.
How to calculate the amount you are REALLY paying for investment management.
Why you're not getting those 9, 10, 11 and 12% average returns financial actors promise you.
What I did after I saved my clients from the great recession in 2008 and why you should do the same right now.
Why Modern Portfolio Theory is misleading and why the next major market decline is right around the corner.
Market psychology, why the average investor averages 2%, and what you can do about it.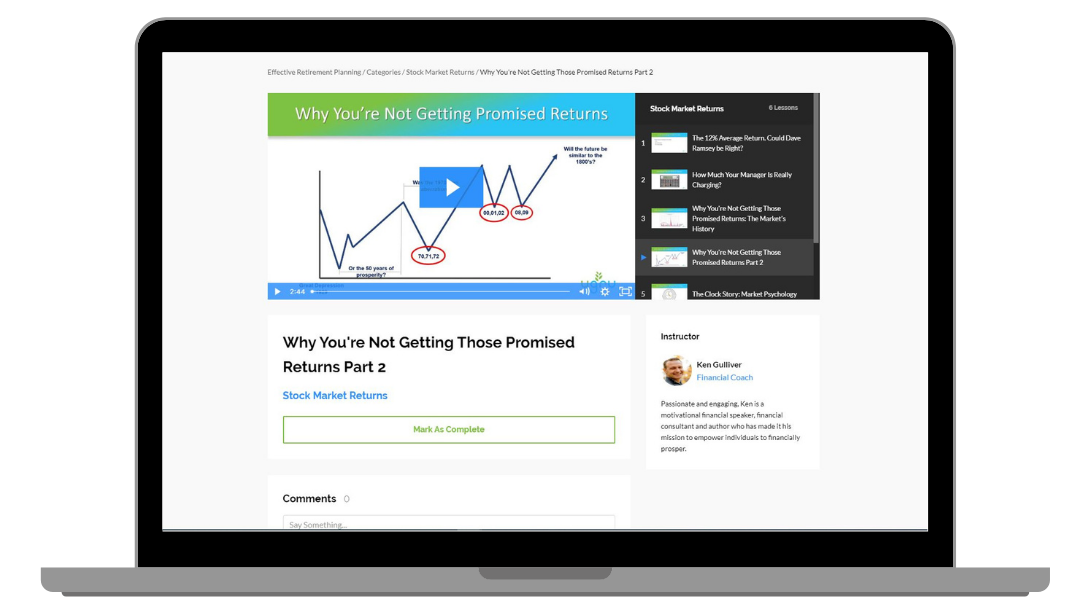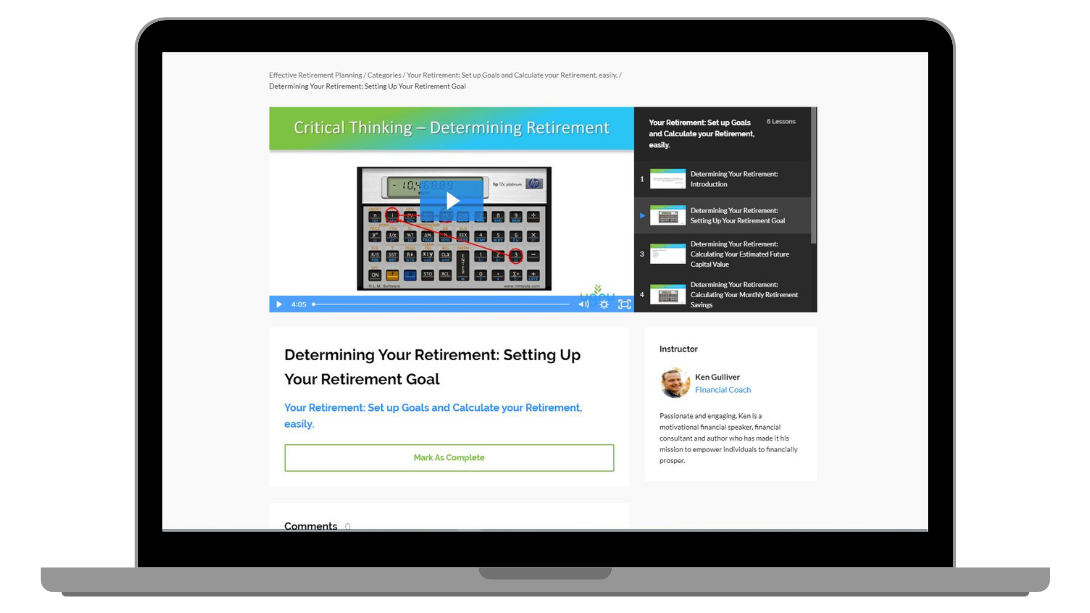 Module 5: "Your Retirement: Set Up Goals and Calculate Your Retirement, easily"
You will discover:
How to think critically when it comes to your own retirement so you aren't misled.
How to calculate future value and determine your own retirement goals.
How to solve for capital value so you know what that pension, Social Security or other income stream actually means to your future retirement.
How to calculate your monthly savings need to meet your retirement goals.
A step-by-step method to determine exactly what you need to do for your dream retirement.
BONUS COURSE: "Ensuring Your Success"
You will discover:
Access this FREE module from "The Spiritual Side of Money" Course and discover:

The steps you need to take to ensure you have more than just brief success with money.
How to tap into your happiness trifecta.
How to make some great spare-time money and to find tax write-offs you may not currently enjoy that can add over $400 per month in your pocket immediately!

 
These lessons are powerful, unique and results oriented.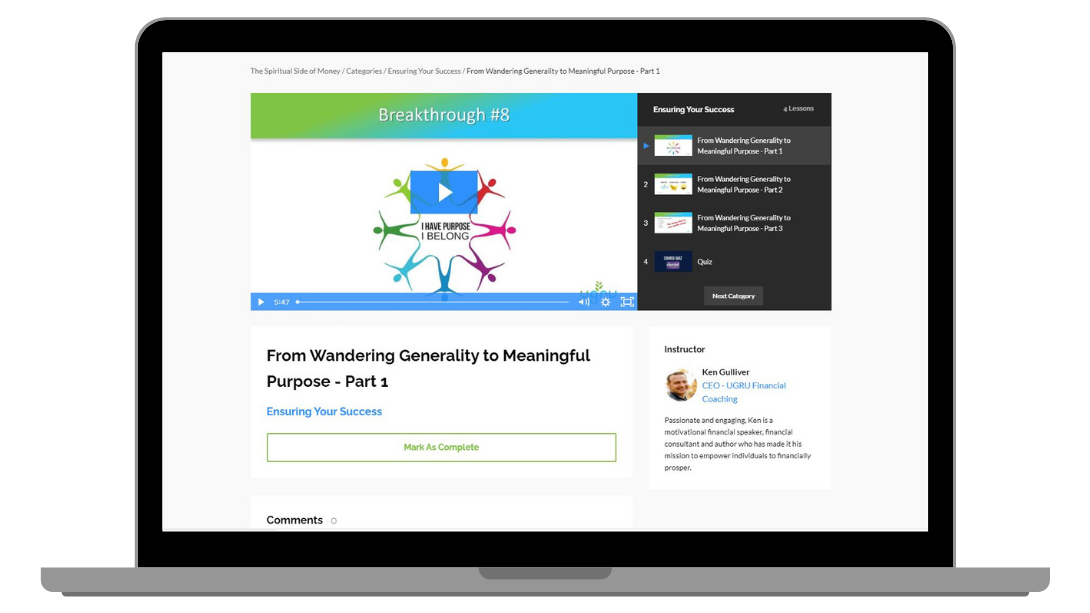 Add thousands of tax write-offs and potentially $400 per month in your pocket immediately!
Meet the Effective Insurance Planning Course Creator
KEN GULLIVER:  RETIRED INVESTMENT ADVISOR & BOOK AUTHOR  
For twenty-five years Ken has been a top quintile advisor at Merrill Lynch and a top 1% Investment Advisor (by revenue) in the United States.   
He is battle proven, calling the downturn of 2008 for his clients, and warns of the next that is upon us in his third hard-hitting book, Right Where They Want You: Why You're Not Rich and What to Do about It.
But, more than that, multiple awards showcase his dedication to the people he serves. Until now, you've only been sold the dream by "financial actors".
Ken has made it his mission to empower you to financially prosper. His goal is to create positive and real financial changes in your life and is committed to helping you live financially free.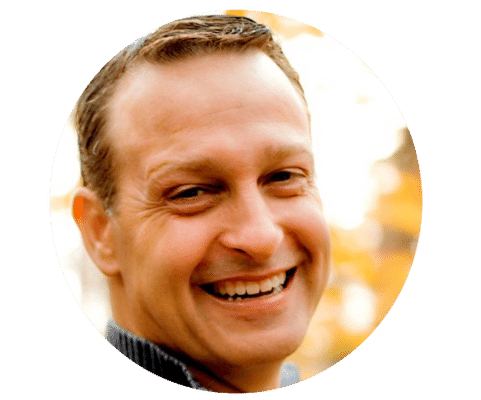 Save on
management fees
annuity fees
Discover how to correct inefficient decisions with your retirement and a unique, powerful and results oriented retirement strategy!  
We are certain you'll love our Effective Retirement Planning Course and we are confident it will exceed your expectations!
If however you are not satisfied upon completing the full course and passing the final assessment, we will issue you a refund within 30 days of purchase. Just send us an email to kenneth@MaplewoodFinancial.com to request your refund. No hassle guarantee!